The Bite-Sized MBA
Are you and your colleagues familiar with the most recent strategic theories taught by the world's leading business schools? Do you all share the same strategic methodologies, mental models and language that could facilitate the collaborative development of strategy?
In this new and demanding competitive environment, it is now more important than ever that staff members have a common understanding of these core strategic concepts so that they can all contribute towards helping their businesses rise to new levels of competitive performance.
The business solution
To meet this challenge, we have worked with numerous leading academics from their various institutions as well as organisations from the public and private sectors to develop a new and ground-breaking Bite-Sized MBA course that provides training in the most powerful and up-to-date MBA models, frameworks, tools and techniques. The course requires no previous business knowledge, experience or qualifications.
As well as being taught to businesses of all kinds to help them to develop more collaborative strategies, the Bite-Sized MBA is regularly delivered to:
Investors – so that they can work more closely alongside their investment targets. (The course is run as part of the UK's Venturefest Programme);
Lawyers – to help them to gain a deeper understanding of their clients, so that they can have more engaging conversations with those clients, ask them more substantive questions, hone in on the key issues and ultimately align legal advice to client strategy.
NHS Foundation Trusts - to equip managers, doctors and other clinicians with the tools they need to develop and communicate strategies internally in the light of the more competitive environment that they currently face. (To date the course has been delivered to over 30 NHS Trusts); and
Start-up Businesses – so that entrepreneurs can gain access to the core MBA concepts without the expense of taking a full MBA.
The Bite-Sized MBA
The course is broken down in to three modules and is structured as follows: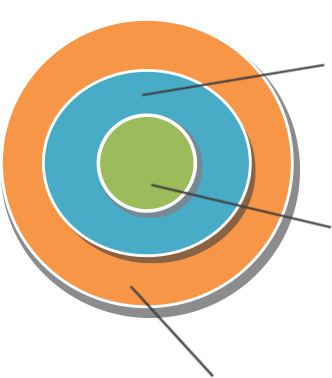 Module 1 – The Industry Layer and the Modern Theory of Business Strategy - How to quickly identify the critical factors for success within an industry.
Module 2 – The Internal Layer - How to analyse the internal resources and capabilities available to a business so that it may exploit those assets in accordance with the opportunities presented to it by its marketplace.
Module 3 - The General Layer – How to interpret changes in the external environment in relative terms, allowing a business to respond to such changes in a manner wholly appropriate to its individual strengths.
The trainer, Rupert Vernalls, has lectured at the US Department of Commerce, worked as a module advisor on the Bath MBA and as a Designated Assistant for Course Planning with Harvard Business Online. In addition, Rupert holds an MBA from Bath University.
Rupert is a qualified lawyer with an MSc in Intellectual Property Law and prior to completing his MBA headed up Osborne Clarke's intellectual property law practice in Silicon Valley. He has worked as in-house IP counsel for Vodafone Group Plc and has been named in the Legal 500 as an experienced technology lawyer.
Please contact us if you would like to obtain any further information about our MBA Essentials for Lawyers course.